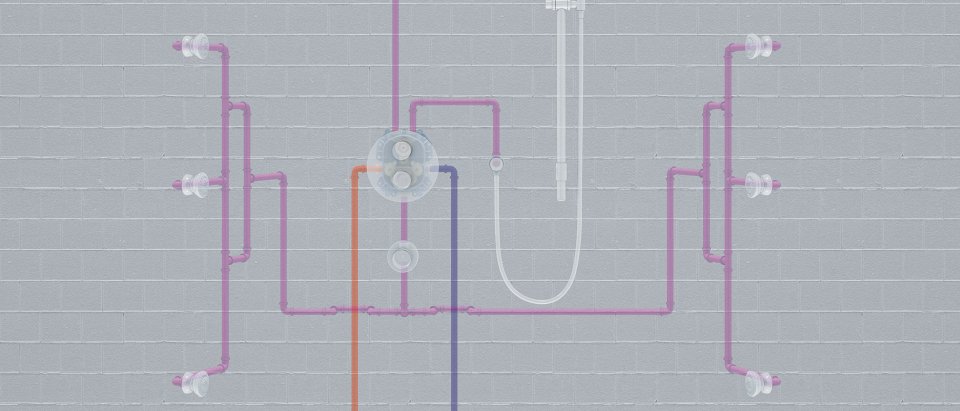 Concealed thermostat with hand, head and side showers
Practical information
Versatile - the combination of the overhead or hand shower with the side showers allows the user to enjoy water from all sides. Comfortable - the GROHE Aquadimmer is an operating lever that allows choosing between the overhead and hand shower and controls the flow rate at the same time.
Safe - for people with children, we recommend the use of a thermostat fitting, which ensures a constant water temperature to provide protection against scalding.
Installation information
To ensure flawless function of the side showers, a 3/4" stop valve is recommended as a minimum.
Equipped with the latest GROHE technology, the GROHE Rapido T concealed thermostat provides a flow rate of over 50 litres per minute at a pressure of 3 bar. This guarantees an optimum supply of water to the side showers. When dimensioning the drain, make sure that the maximum amount of water produced can run off safely. Operating this shower with an instantaneous water heater is not recommended. The hot water storage tank should be sufficiently large. When the overhead shower and the side showers are used at the same time, up to 360 litres of hot/cold water are needed in 10 minutes.
Please observe the recommended installation height of the showers on table.
Water quantities
Minimum requirements to ensure good functioning of this shower solution:
Recommended pressure: 2.2 bar ahead of the thermostat fitting
4 l/min. per side shower
12 l/min. for the overhead shower
7 l/min. for the hand shower
General tips for installation
Please make sure that the water volume and the water pressure is adequate so as the waste is sufficiently be dimensioned.